Cachupa Rica is a traditional Cape Verdean stew that is packed with flavor and perfect for feeding a crowd. Made with corn, beans, vegetables, and seasoned meats, this hearty dish is sure to satisfy.
Cape Verde is an archipelago of ten islands located off the coast of West Africa. The cuisine of Cape Verde is a fusion of African, Portuguese, and Brazilian influences, and Cachupa Rica is one of the most beloved dishes in the country.
Cachupa Rica is typically made with a variety of meats such as pork ribs, chicken, and sausages. The stew also includes corn, beans, vegetables such as cabbage and collard greens, and spices such as chili pepper and bay leaf. The result is a rich and flavorful stew that is perfect for sharing with friends and family.
One of the great things about Cachupa Rica is that it can be made in advance and reheated the next day. In fact, many people believe that the stew tastes even better the next day after the flavors have had time to meld together.
In this blog post, we'll show you how to make Cachupa Rica at home. We'll walk you through the ingredients and steps to make this delicious stew, and we'll also share some tips and tricks to help you get the best results.
The cuisine of Cape Verde reflects its history as a melting pot of cultures. African ingredients such as corn and beans are combined with Portuguese staples such as cabbage and sausage to create unique and flavorful dishes.
Cachupa Rica is a perfect example of this fusion cuisine. The stew combines ingredients from different cultures to create a dish that is uniquely Cape Verdean. And while there are many variations of Cachupa Rica depending on the cook and the region, the basic elements remain the same: corn, beans, vegetables, and seasoned meats.
So grab your apron and let's get cooking! We can't wait to share this delicious recipe with you and show you how to bring the flavors of Cape Verde to your table. 😊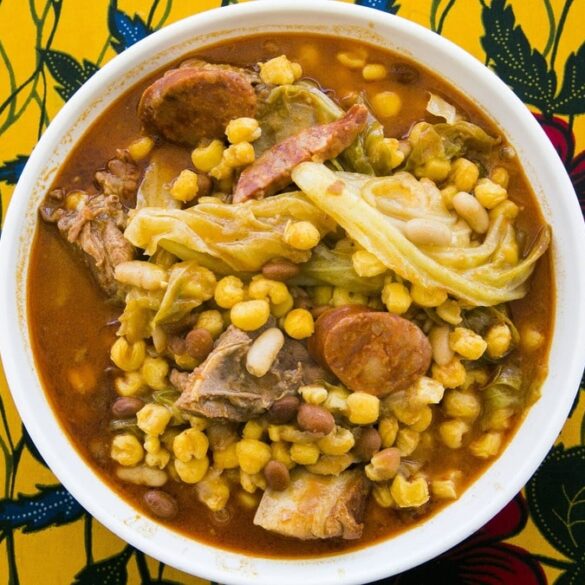 Ingredients
2.2 lbs of corn for cachupa
1.1 lbs of butter beans
1.1 lbs of red beans
5.3 oz of bacon
1 pig's foot
1.1 lbs of pork ribs
2 land sausages
1.1 lbs of chicken
1.1 lbs of cassava
1.1 lbs of yam
1.1 lbs of green banana
1.1 lbs of sweet potato
1/4 of cabbage
4 leaves of collard greens
2 chorizo sausages
2 medium onions
1 bell pepper
4 tablespoons of wine
2 cloves of garlic
Chili pepper to taste
Bay leaf to taste
Olive oil to taste
Salt to taste
Instructions
The day before, soak the beans and corn in cold water.
On the day of cooking, place in a pot, cover with water and bring to a boil.
When the corn and beans are almost cooked, add the sausages.
In a frying pan, brown the onion, garlic and bell pepper in olive oil.
Add the meats and bacon already cut and seasoned with salt, chili pepper and wine. Let it cook.
Add this mixture to the pot where the corn, beans and sausages are being cooked.
Cut the vegetables and add them to the pot along with a bay leaf.
Let it simmer on low heat until well cooked.
Notes
This recipe calls for a variety of meats such as pork ribs, chicken, and sausages. You could try using different cuts of meat or even substituting some of the meat for seafood such as shrimp or clams to add a different flavor profile to the dish.
This recipe already includes a variety of vegetables such as cabbage, collard greens, and sweet potatoes. However, you could add even more vegetables to the stew to increase the nutritional value and add more flavor. Some suggestions could be carrots, zucchini, or bell peppers.
If you like your food spicy, you could add more chili pepper or even try using a different type of hot pepper such as habanero or jalapeño. If you prefer your food less spicy, you could reduce the amount of chili pepper or omit it altogether.
You could try adding other fresh herbs such as thyme, rosemary, or cilantro to add more depth of flavor to the dish.
This stew is hearty and filling on its own, but you could serve it with a side dish to make it even more satisfying. Some suggestions could be rice, crusty bread, or a simple green salad.