Hello lovely people! Today I'm going to share with you one of my favorite recipes from Portugal: bolas de berlim. These are amazing donuts that are filled with custard cream or jam and dusted with powdered sugar. They are so soft and fluffy and absolutely irresistible!
Bolas de berlim are a very popular pastry in Portugal and you can find them in every bakery, café and beach stall. They are usually eaten as a snack or dessert, but I won't judge you if you have them for breakfast too. They are that good!
The name bolas de berlim means "balls of Berlin" and they are inspired by the German Berliner donuts. However, the Portuguese version has some differences that make them unique and delicious. For example, they are bigger in size and have more filling than the Berliners. They also have a thinner crust and a lighter texture.
The secret to making perfect bolas de berlim is to use a good yeast dough that rises well and fries evenly. You also need to use fresh ingredients for the filling, such as eggs, milk and vanilla for the custard cream or homemade jam for the fruity option. And of course, you need to sprinkle them generously with powdered sugar while they are still hot.
Making bolas de berlim at home is not difficult at all and it's totally worth it. You can make them ahead of time and store them in an airtight container or freeze them for later use. You can also customize them with different fillings according to your taste and preference.
In this blog post, I'm going to show you step by step how to make bolas de berlim from scratch using simple ingredients and tools. You will also find some tips and tricks to make sure your donuts come out perfect every time.
So grab your apron and let's get cooking! Trust me, once you try these bolas de berlim, you will never want to go back to regular donuts again!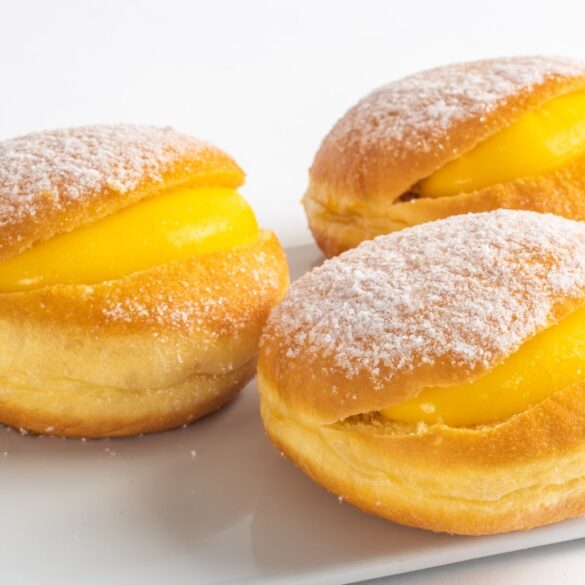 Ingredients
For the dough:

2 cups of all-purpose flour
2 tbsp of granulated sugar
3 tbsp of vegetable oil
1/3 cup of whole milk
1 egg
A pinch of salt
0.9 oz of fresh yeast or 0.4 oz of dry yeast

For the custard:

2/3 cup of water
Sugar to taste
Lemon peel
Cinnamon stick
Cornstarch or potato starch to thicken

For frying and sprinkling:

Plenty of oil
Powdered sugar
Instructions
In a large bowl, mix the warm milk with the yeast and a teaspoon of sugar. Let it rest for about seven minutes until bubbles form.
Add the flour, oil, egg and salt and knead well until you get a smooth and elastic dough. Cover with a damp cloth and let it rise in a warm place for about an hour or until doubled in size.
In a small saucepan, bring to a boil the water with the sugar, lemon peel and cinnamon stick. Let it boil for a few minutes and then dissolve the starch in a spoonful of cold water and add it to the syrup. Stir well until thickened and remove from heat.
Divide the dough into equal pieces and shape them into balls. Place them on a baking sheet lined with a cloth sprinkled with flour. Cover again with a damp cloth and let them rise for another half hour.
Fry the balls in plenty of oil not too hot, turning them halfway through frying. Drain on paper towels and sprinkle them with powdered sugar.
Cut the balls in half with scissors without separating the halves. Fill them with custard using a pastry bag.
Notes
To store the leftover bolas de Berlim, you can put them in airtight containers or plastic bags and keep them at room temperature for up to two days . If you want to keep them longer, you can store them in the refrigerator for up to a week. However, keep in mind that the bolas de Berlim may lose their original texture and flavor when stored.
Activate the yeast before adding it to the dough. Mix the yeast with some sugar and warm water and let it rest for 10 minutes until bubbles form. This will ensure that the yeast is alive and will make the dough rise well.
Do not add too much flour to the dough. The dough should be soft and elastic, but not sticky. If you add too much flour, the bolas will be hard and dry after frying.
Let the dough rise in a warm and draft-free place. Cover the dough with a damp cloth and let it double in size before shaping the balls. After shaping them, let them rise again for half an hour to make them fluffy and round.
Fry the bolas de Berlim in plenty of oil that is not too hot. The oil should be at a temperature between 320°F and 356°F so that the balls fry evenly without burning on the outside or being raw on the inside. Turn them halfway through frying to brown them on both sides.
Sprinkle the bolas de Berlim with powdered sugar right after frying. The sugar will stick better to the balls when they are still hot and will give them a sweet and crunchy touch.