Hello lovely people! Today I want to share with you one of my favourite dishes from Portugal: Bitoque à Portuguesa. This is a classic and simple dish that consists of a steak topped with a fried egg and served with fries, rice and salad. It's hearty, satisfying and full of flavour.
Bitoque à Portuguesa is one of those dishes that you can find in almost any restaurant or café in Portugal. It's a staple of Portuguese cuisine and a great example of how they make the most of simple ingredients. The steak is usually thin and tender, seasoned with garlic, salt and pepper and cooked in a hot pan until juicy.
The egg is fried in the same pan until crispy on the edges and runny in the middle. The fries are golden and crunchy, the rice is fluffy and fragrant, and the salad adds some freshness and crunch.
This dish is perfect for any occasion: lunch, dinner, or even breakfast if you're feeling adventurous. It's easy to make at home with minimal fuss and maximum flavour. You can use any cut of beef you like, as long as it's not too thick or tough.
You can also swap the fries for roasted potatoes or mashed potatoes if you prefer. And you can add some extra toppings to your steak if you fancy, like cheese, ham or bacon.
I love this dish because it reminds me of my travels to Portugal and the amazing people I met there. It's a dish that brings people together around the table and makes them happy. It's comfort food at its best.
So let me show you how to make Bitoque à Portuguesa at home with this easy recipe that anyone can follow. Trust me, once you try it, you'll be hooked!
If you try this recipe, let me know how it goes in the comments below. I'd love to hear from you and see your photos. And if you have any questions or suggestions, feel free to ask me anything. I'm always happy to help.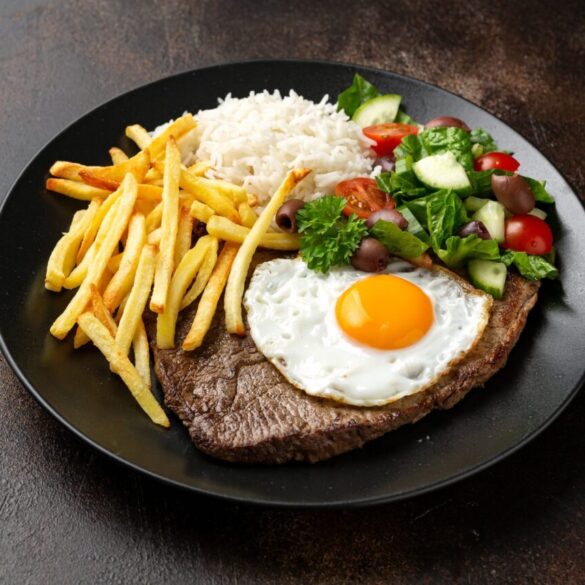 Ingredients
4 beef steaks
Salt and pepper to taste
0.7 oz of chopped garlic
2 bay leaves
1/4 cup of white wine
1/4 cup of water
1 tablespoon of mustard
1 tablespoon of butter
Oil for frying
4 eggs
French fries to taste
White rice to taste
Mixed salad to taste
Olives and pickles to taste
Instructions
Season the steaks with salt, pepper, half of the garlic and the bay leaves. Set aside.
Fry the potatoes in hot oil and drain them on paper towels. Set aside.
Cook the rice in water seasoned with salt and a beef stock cube. Set aside.
In a large skillet, heat some oil and fry the steaks over medium-high heat until golden on both sides. Remove them to a plate and keep them warm.
In the same skillet, add the remaining garlic, white wine, water, mustard and butter. Stir well and bring to a boil until you get a creamy sauce. Taste and adjust seasoning if necessary.
In a small skillet, fry the eggs in hot oil until they are sunny side up.
On a plate, place a steak with an egg on top and drizzle with some sauce. Serve with some rice, french fries and mixed salad. Garnish with olives and pickles as you like.
Notes
The best cuts of beef for steak come from the rib, short loin or tenderloin primal cuts. These are the most tender and flavorful parts of the steer. Some examples are ribeye, strip steak, filet mignon and porterhouse.
The marbling refers to the thin streaks of fat within the muscle tissue. The more marbling a steak has, the more juicy and tasty it will be. Look for well-marbled meat with even distribution of fat throughout.
The color of the meat should be bright red with a moist but not wet surface. Avoid meat that is brownish, grayish or dry-looking. Any cut edges should be smooth and not ragged.
The freshness of the meat is also important for quality and safety. Check the sell-by date on the package and avoid meat that has tears or leaks liquid. The meat should feel firm and cold to touch.