As a Portuguese woman, I have many fond memories of cooking and eating traditional Portuguese dishes with my family. One dish that always brings back happy memories is Portuguese garlic bread. It's a simple yet flavorful dish that's perfect for sharing with loved ones.
I learned how to make this dish from my mother, who passed down her recipe to me. She would always make it for special occasions or when we had guests over. The smell of the garlic and cheese baking in the oven would fill the house and make everyone's mouth water.
Making this dish always brings back happy memories of cooking with my mother in the kitchen. We would laugh and chat as we prepared the ingredients and assembled the bread. It was a bonding experience that I will always cherish.
Now, as an adult, I continue to make this dish for my friends and family. It's a way for me to share my culture and heritage with them. And every time I make it, I'm reminded of the happy memories of cooking with my mother.
Portuguese garlic bread is more than just a delicious dish. It's a connection to my past and a way for me to share my culture with others. I hope that by sharing this recipe with you, you too can create your own happy memories with your loved ones.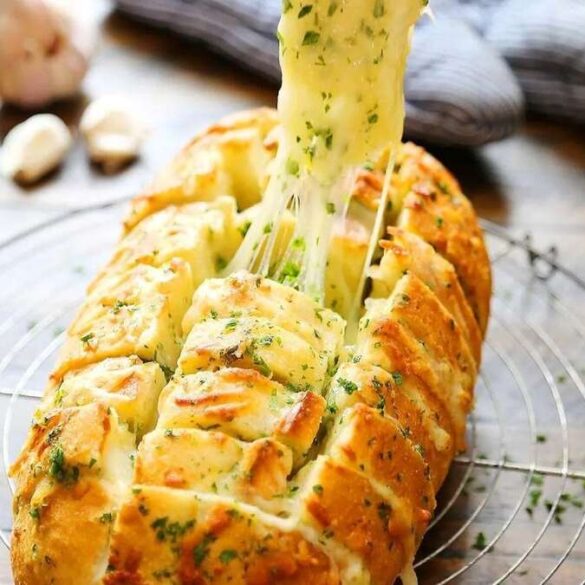 Ingredients
1 large bread (from Rio Maior or Alentejano)
7 oz of grated cheese (various)
8 cloves of garlic (chopped)
Mayonnaise
Heavy cream
Ground pepper
Parsley
Instructions
Start by cutting a hole in the shape of a lid on top of the bread. Remove all the crumb and set aside.
Combine the grated cheese, chopped parsley, and chopped garlic cloves in a bowl.
Gradually add the mayonnaise and heavy cream until you get a homogeneous paste.
Season with a little pepper and place the paste inside the bread until it is completely filled.
Wrap the bread in aluminum foil and bake for 15 minutes at 390°F.
Remove the foil, arrange the crumb around the bread (to make toast) and bake again for another 10 minutes.
Remove when the bread is lightly toasted and the cheese is completely melted. Serve warm.
Notes
Experiment with different types of cheese: The recipe calls for various types of grated cheese, but you can experiment with different combinations to find the one that suits your taste. Try using a mix of sharp cheddar, mozzarella, and parmesan for a rich and flavorful filling.
Add some heat: If you like a little heat in your food, try adding some chopped jalapeño peppers or red pepper flakes to the filling. This will give the bread a nice kick and add another layer of flavor.
Use fresh herbs: The recipe calls for parsley, but you can also experiment with other fresh herbs such as basil, thyme, or rosemary. Chop them finely and add them to the filling for a burst of freshness.
Add some crunch: For some added texture, try adding some chopped nuts such as walnuts or pecans to the filling. They will add a nice crunch and complement the gooey cheese.
Serve with a dipping sauce: This cheese and garlic stuffed bread is delicious on its own, but you can also serve it with a dipping sauce for added flavor. Try serving it with marinara sauce, ranch dressing, or even honey mustard.