Hi everyone! Today I want to share with you one of my favorite recipes from my childhood: Folar de Valpaços. If you don't know what it is, let me tell you: it's a delicious bread with meat and eggs that is typical of the region of Trás-os-Montes, in northern Portugal.
It's also the only folar (Easter bread) in Portugal that has a protected geographical indication (IGP), which means that it has to follow certain rules and standards to be authentic.
I learned how to make Folar de Valpaços from my grandmother, who was born and raised in Valpaços, a small town surrounded by olive groves and vineyards.
She used to make it every year for Easter, and it was always a special occasion for our family. We would gather around the table and enjoy this hearty bread with cheese, wine and coffee. It was so good!
I moved to the USA when I was 18 years old, but I never forgot my roots or my grandmother's recipe. Every year, I try to recreate her folar at home, using the best ingredients I can find.
It's not easy to get some of the traditional meats here, like salpicão (smoked sausage), linguiça (spicy sausage) or presunto (cured ham), but I do my best with what I have.
Making Folar de Valpaços is not very complicated, but it does take some time and patience. You have to prepare the dough with flour, eggs, olive oil and margarine or lard, and let it rise for a few hours.
Then you have to roll out the dough and fill it with slices of meat. You have to fold the dough over the filling and place it in a baking pan. Then you have to bake it for about 45 minutes until golden brown.
The result is a soft and fluffy bread with a crispy crust and a savory filling that melts in your mouth. It's perfect for breakfast or brunch, or as a snack anytime of the day. You can eat it hot or cold, plain or with butter or jam.
If you want to try this amazing recipe at home, keep reading this blog post where I will show you step by step how to make Folar de Valpaços like my grandmother did. Trust me: you won't regret it!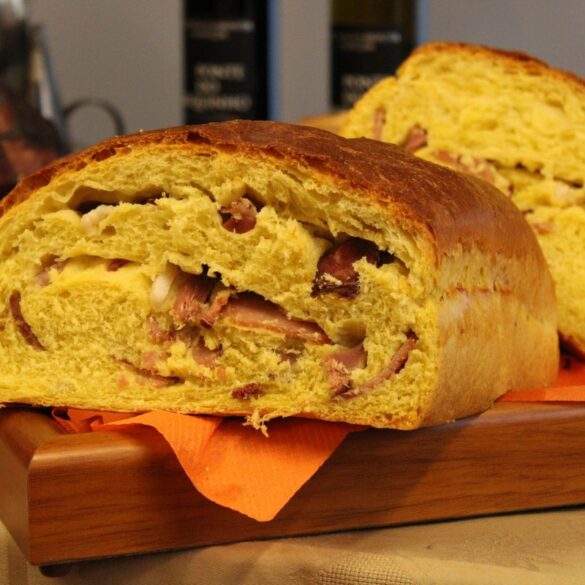 Ingredients
2.2 lb of flour
1.8 oz of baker's yeast
4 eggs
0.2 cup of olive oil
Salt to taste
8.8 oz of ham
8.8 oz of salpicão (a type of smoked sausage)
8.8 oz of linguiça (a type of spicy sausage)
Instructions
Sift the flour with a little salt into a large bowl and make a well in the center.
Dissolve the yeast in lukewarm water and add it to the flour, mixing well.
Place the eggs in a bowl with warm water for a few minutes and then crack them into the flour, working the dough from the center outwards.
Add the olive oil and knead well until you get a smooth and elastic dough that comes off your hands and the bowl.
Shape the dough into a ball and let it rise in a warm place until it doubles in size (about two hours).
Cut the meats into slices or strips and set them aside.
Roll out the dough with a rolling pin on a floured surface and spread the meats over it, leaving a free margin on the edges.
Roll up the dough like a cake roll and seal well the ends, forming a thick roll.
Place the folar in a greased baking pan or lined with parchment paper and let it rise for another half hour.
Bake in a preheated oven at 350°F for about an hour or until golden and cooked inside (you can check with a toothpick).
Remove from oven and let cool on wire rack.
Notes
You can make some substitutions or additions of ingredients, but keep in mind that this may change the flavor and texture of the folar. For example: you can use butter or lard instead of olive oil, or a combination of the three; you can use dry yeast instead of fresh yeast, but reduce the amount by half, you can use other types of sausages or smoked or cured meats, such as bacon, chorizo or paio, you can add herbs to the dough, such as rosemary or thyme; you can brush the folar with egg yolk before baking to make it more golden.
One way to extend the shelf life of folar is to freeze it after baking. You can wrap it tightly in plastic wrap or aluminum foil and store it in a freezer bag for up to 3 months. To thaw it, you can leave it at room temperature for a few hours or microwave it for a few seconds.
Another way to extend the shelf life of folar is to keep it in an airtight container or a plastic bag at room temperature or in the refrigerator. This may prevent it from drying out or getting moldy. However, you should check it regularly for signs of spoilage, such as changes in color, texture, smell or taste.