Chicken Mozambique is a popular dish in Portuguese cuisine that consists of chicken pieces cooked in a spicy sauce made with beer, butter, garlic, onion and saffron. It is usually served with white rice and sometimes fries.
Chicken Mozambique is a delicious way to enjoy chicken with a twist. This dish originated in Portugal and was influenced by the flavors of Mozambique, a former Portuguese colony in Africa.
The main ingredient is chicken, which can be cut into cubes or left whole. The chicken is sautéed in butter until golden and then simmered in a sauce made with beer, garlic, onion and saffron. The sauce gives the chicken a rich and aromatic flavor that is slightly spicy and tangy.
Chicken Mozambique is a mouthwatering dish that combines tender chicken with a zesty sauce. It is a fusion of Portuguese and African flavors that creates a symphony of taste and aroma. The chicken is succulent and juicy, while the sauce is buttery and spicy. The saffron adds a golden hue and a subtle floral note.
The beer or wine gives the sauce a tangy kick and a depth of flavor. The hot sauce adds some fire and excitement to the dish. Chicken Mozambique is like a sunny day in Africa, full of warmth and adventure.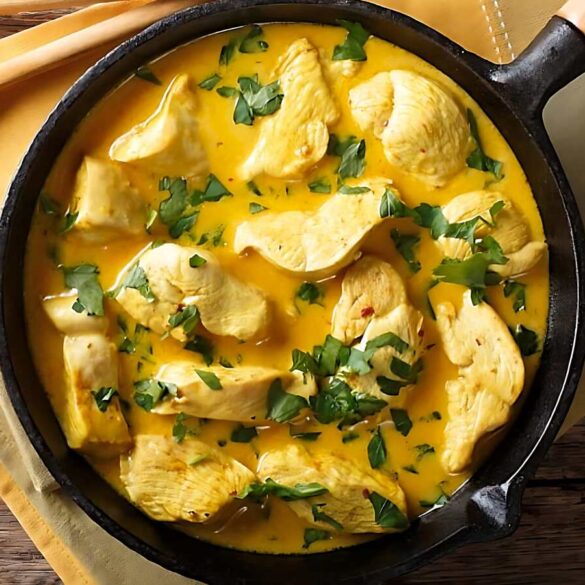 Ingredients
2 pounds of chicken (cubed or whole)
4 tablespoons of butter
1 onion (chopped)
4 cloves of garlic (minced)
1 cup of beer (preferably light)
2 packets of saffron seasoning (such as Sazon Goya)
Hot sauce (to taste)
Salt (to taste)
Parsley (chopped for garnish)
Instructions
In a large frying pan, heat two tablespoons of butter over medium-high heat and add the chicken pieces. Season with salt and cook until browned on all sides. Transfer the chicken to a plate and set aside.
In the same pan, add the remaining butter and sauté the onion and garlic until soft and translucent. Deglaze the pan with the beer, scraping up any brown bits from the bottom.
Add the saffron seasoning and hot sauce to the beer mixture and bring to a boil. Reduce the heat and simmer for about 15 minutes or until slightly thickened.
Return the chicken to the pan and coat well with the sauce. Cover and cook for another 10 minutes or until the chicken is cooked through.
Sprinkle some parsley over the dish and serve hot with white rice or fries.
Notes
You can use white wine instead of beer for the sauce.
Add some lemon juice or vinegar for extra acidity.
Add some paprika, cumin or curry powder for more spice.
Use chicken thighs or drumsticks instead of breast for more flavor and tenderness.
Add some vegetables such as carrots, peas or mushrooms for more nutrition and color.
Use a good quality beer or wine for the sauce, as it will affect the flavor of the dish.
Use saffron seasoning packets (such as Sazon Goya) for convenience and color, or use real saffron threads for a more authentic taste.
Adjust the amount of hot sauce according to your spice level. You can also use fresh or dried chili peppers for more heat.
Sear the chicken well before adding it to the sauce, as this will lock in the juices and create a nice crust.
Simmer the chicken on low heat until tender and let it absorb the flavors of the sauce.
Serve the chicken with white rice or fries and some bread to soak up the sauce. Garnish with some parsley for freshness.