Brazilian potato salad. Have you heard of it? If not, let me introduce you to your new favorite side dish. This recipe is a delicious and satisfying combination of tender potatoes, creamy mayonnaise, tangy mustard, and flavorful herbs and spices. It's the perfect addition to any meal and is sure to impress your guests.
But what makes Brazilian potato salad different from other potato salads? For starters, it's all about the ingredients. This recipe calls for a few key ingredients that give it its unique flavor and texture. The addition of boiled eggs adds a richness to the dish, while the chopped onions provide a nice crunch. And let's not forget about the dressing – a combination of mayonnaise, mustard, vinegar, and spices that perfectly coats each bite.
But don't let the ingredient list intimidate you – this recipe is actually incredibly easy to make. All you need is a pot to boil the potatoes and eggs, a bowl to mix the dressing, and a dish to serve it in. It's that simple! And the best part? You can make it ahead of time and store it in the refrigerator until you're ready to serve.
One of the great things about Brazilian potato salad is its versatility. It pairs well with a variety of main dishes, from grilled meats to roasted vegetables. It's also perfect for potlucks and picnics – just make a big batch and bring it along to share with friends and family.
And if you're feeling adventurous, why not experiment with different ingredients? Try adding diced ham or cooked bacon for some extra flavor and texture. Or mix in some diced pickles or gherkins for a tangy twist. The possibilities are endless!
So why not give Brazilian potato salad a try? It's a delicious and satisfying side dish that is sure to become a new favorite in your household. Trust me, once you try it, you'll never go back to regular potato salad again.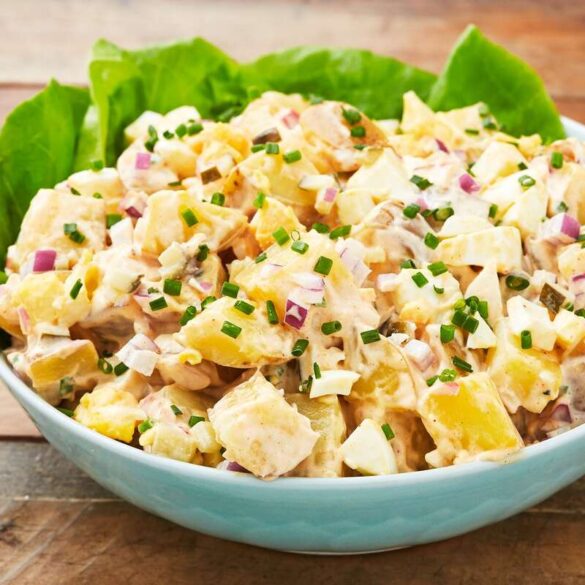 Ingredients
1.1 lbs of peeled potatoes
4 boiled eggs
1 and 1/2 cups of mayonnaise
1 tablespoon of mustard sauce
1 tablespoon of white vinegar
2 chopped onions
Salt, black pepper, paprika and green onions to taste
Instructions
In a large pot, place the peeled potatoes and cover them with water and bring to a boil. Once it reaches boiling point, reduce the heat and cover the pot. Cook over low heat until the potatoes are soft but not mushy.
Drain the cooking water and set aside until they are warm.
Cut the potatoes into small cubes and place in a dish. Add the chopped onions.
In a separate container, mix the mayonnaise with the vinegar, mustard, pepper, salt and paprika. Pour over the potatoes and onions and mix well.
Cut the boiled eggs and add them to the potato salad.
Sprinkle green onions to taste and cover the dish with aluminum foil or plastic wrap.
Refrigerate until ready to serve.
Notes
You can add other ingredients to the Brazilian potato salad to suit your taste. Some suggestions could be diced ham, cooked and crumbled bacon, diced pickles or gherkins, chopped bell peppers, or even some diced apples for a sweet and crunchy addition. Feel free to experiment and make the recipe your own!
You can substitute some of the ingredients in the Brazilian potato salad recipe to suit your taste or dietary needs. For example, you could use a vegan mayonnaise instead of regular mayonnaise to make the recipe vegan-friendly.
You could also use a different type of vinegar, such as apple cider vinegar or red wine vinegar, instead of white vinegar.
Additionally, you could use a different type of mustard or even leave it out altogether if you don't like the taste.
Brazilian potato salad can be stored in the refrigerator for up to 3-4 days. Make sure to store it in an airtight container to keep it fresh. It's best to consume it within this time frame to ensure that it's still safe to eat and that the ingredients haven't lost their flavor or texture.