Growing up, one of my fondest memories was visiting my grandmother in Portugal and sitting down to a big bowl of her homemade Papas de Sarrabulho.
This traditional porridge from the Minho region of Portugal is made with a mix of meats, collard greens, cooked pork blood, and cornmeal, creating a rich and flavorful dish that always warmed me up from the inside out.
Now that I'm living in the US, I often find myself craving the comforting flavors of my grandmother's cooking. So I decided to try my hand at recreating her recipe for Papas de Sarrabulho. It took a bit of trial and error, but I finally managed to get it just right.
For me, food is more than just sustenance. It's a way to honor family traditions and remember our ancestors. Every time I make Papas de Sarrabulho, I feel like I'm connecting with my grandmother and keeping her memory alive. It's a way to pass down our family's traditions and heritage to future generations.
In this blog post, I'll share my journey to recreate my grandmother's recipe for Papas de Sarrabulho. I'll show you how to make this traditional dish at home and share some tips and tricks I learned along the way.
Whether you're new to Portuguese cuisine or have fond memories of your own family's cooking, this recipe is sure to bring back memories and warm your soul.
So join me on this culinary adventure as we explore the rich flavors and history of Papas de Sarrabulho. Let's honor our family traditions and keep our ancestors' memories alive through the food we cook and share. Let's get cooking!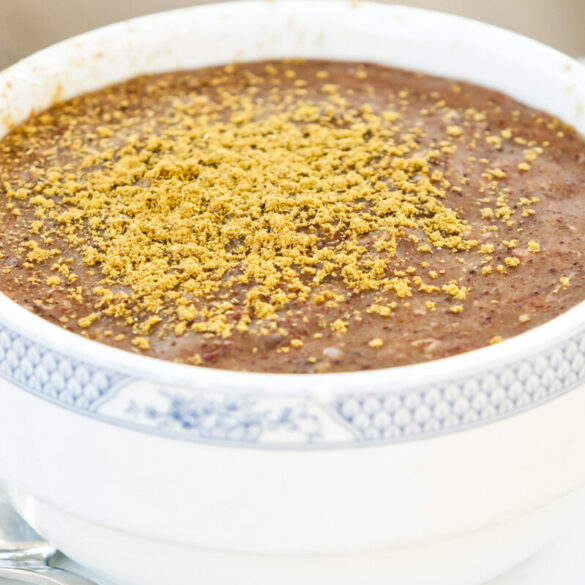 Ingredients
10.6 oz beef
7 oz bacon
7 oz fat ham
10.6 oz pork ribs
1 very cured pork suet bone
½ chicken
collard greens to taste
8.8 oz cooked pork blood
8.8 oz sifted cornmeal
salt to taste
pepper to taste
cumin to taste
Instructions
Bring a pot of water to a boil and add the meats. Season with salt and let simmer until all the meats are cooked (some take longer than others).
When the cooking is finished, remove the meats from the pot and leave only the broth. Shred the cooked meats into small pieces.
Add the cornmeal and blood to the broth until it forms a not-too-thick porridge. Add the shredded meats and season with cumin.
Mix everything well and let cook for a few more minutes.
Remove from heat and serve in bowls sprinkled with a little more cumin.
Notes
The choice of meats to use in this Braga-style Papas de sarrabulho recipe depends a lot on your personal taste. For example, you can only use beef and chicken. But you can also add pork giblets, such as the heart, lungs and liver.
The meats must be shredded as finely as possible, almost as thick as a hair.
There are those who prefer to make Papas de sarrabulho with crumbled bread instead of corn flour. You can choose the bread that you like the most. The amount to use depends on the thickness of the Papas de sarrabulho. Keep adding until you think you've reached the thickness you like best.
You can add other spices to refine the aroma of the Papas de sarrabulho. Cloves and nutmeg are good options.
A great way to give Papas de sarrabulho a more special flavor is to add a little lemon juice before serving.