There are many different ways to prepare leite creme, one of the Portuguese favorite desserts. Its origin is somewhat uncertain and controversial: it is attributed to the French and mentioned for the first time in 1691. However, the English also claim responsibility for this dessert.
Controversies aside, what is certain is that his fame spread throughout Europe. There are versions in France, Spain and Portugal, and it is here, in the Lusitanian corner, that the most variety of recipes exists. One of the oldest known Portuguese versions is the leite creme conventual. Another, less known but equally delicious, is Minho-style leite creme.
Whatever version you decide to make, the most important thing is to choose quality ingredients. If so, success is guaranteed and your guests will want to repeat this sweet over and over again. Learn how to make a delicious Minho-style leite creme with this old and traditional recipe.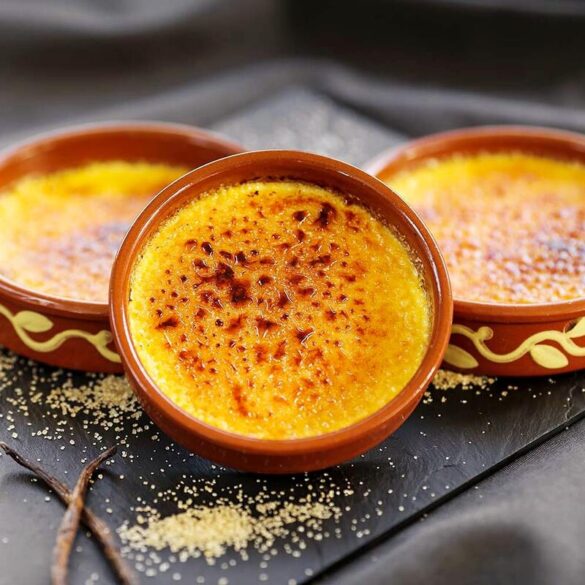 Ingredients
6 egg yolks
4 cups of milk
15 tablespoons of sugar
1 lemon
5 tablespoons of corn starch
Instructions
Mix the yolks with the sugar, the cornstarch and a small amount of milk in a bowl.
Stir until you get a homogeneous cream. Reserve.
Put the remaining milk on the heat along with a few strips of lemon peel.
As soon as it starts to boil, remove it from the heat and add it to the yolk mixture.
Mix well and bring back to the heat.
Stir continuously until thickened.
When ready, divide into individual bowls and sprinkle with sugar.
Burn the surface with a hot iron or kitchen torch.
Serve fresh (or warm, if you can't resist).
Notes
If you want to make this recipe easier, the trick to never go wrong with the quantity of ingredients is to put a tablespoon of sugar for each egg yolk. The amount of cornstarch flour is also a very full tablespoon.
In addition to sprinkling with sugar, you can also add a small amount of ground cinnamon. It will no longer be leite creme, but it will be just as delicious.
The leite creme is sometimes served on top of toasted biscuits. The cookies should be placed at the bottom of a platter and later add the cream milk.
Minho-style leite creme is the usual dessert for a meal where the main course is sarrabulho. It is the perfect sweet to counteract the strong flavor of this type of food.
You can further enhance the flavor of the leite creme by adding a pinch of salt. This ingredient does not make the final result salty: it only reinforces the flavor of the other ingredients.
In recent years, more modern versions of the traditional leite creme recipe have multiplied. One of the new ideas is to put 2 chamomile tea bags to rest in boiled milk for a few minutes. The result is a leite creme with a slight floral aroma that some people may like. If you want to try it, go ahead!
Another option to add a touch of extra flavor is to add a vanilla bean to the mixture. If you don't have pods, you can use vanilla essence.