Hello, my dear readers! Today I want to share with you one of my favorite recipes from my childhood: Folar da Páscoa. This is a traditional Portuguese sweet bread that is baked with eggs on top for Easter. It is soft, fluffy and fragrant with spices like cinnamon and anise.
My grandmother used to make it every year and I still remember the smell of the bread filling the house and the joy of breaking the eggs with my cousins. This recipe is very special to me because it reminds me of her and our family traditions. I hope you will enjoy it as much as I do!
Folar da Páscoa has a long history and meaning in Portugal. It dates back to the Middle Ages, when people would offer bread and eggs to their godparents on Easter Sunday as a sign of gratitude and respect.
The eggs were considered a symbol of life and resurrection, and they were decorated with colorful patterns or wrapped in paper or cloth. The bread was shaped into a ring or a crown to represent the crown of thorns that Jesus wore on the cross.
Over time, the tradition evolved and people started to bake the eggs inside the bread instead of offering them separately. The bread also became sweeter and richer with sugar, butter, milk and spices.
Different regions have their own variations of Folar da Páscoa, some adding dried fruits, nuts or cheese to the dough. Some also make savory versions with meat or fish.
The recipe that I'm going to show you today is based on my grandmother's original recipe that she learned from her mother. She was from Trás-os-Montes, a region in northern Portugal that is known for its rustic cuisine and beautiful landscapes.
She always used fresh eggs from her own chickens and homemade yeast that she kept in a jar in the fridge. She also used lard instead of butter because it gave more flavor and texture to the bread.
She would start making the dough on Good Friday night and let it rise overnight in a warm place covered with a cloth. On Saturday morning, she would shape it into a round loaf with a hole in the middle and place an egg in the center.
She would then decorate it with thin strips of dough forming crosses over the egg. She would let it rise again for a few hours before baking it in a wood-fired oven until golden brown.
She would always make several loaves of Folar da Páscoa because she had many godchildren who would come to visit her on Easter Sunday. She would also give some to her neighbors and friends as gifts. She was very generous and kind-hearted, just like her bread.
I have adapted her recipe slightly to make it easier for modern home cooks who don't have access to fresh yeast or lard or wood-fired ovens (although you can still use them if you do). I have also added some tips and tricks that will help you achieve perfect results every time.
I hope you will try this recipe at home this Easter season and share it with your loved ones. It is not only delicious but also meaningful because it connects us with our roots and our culture. Let's get started!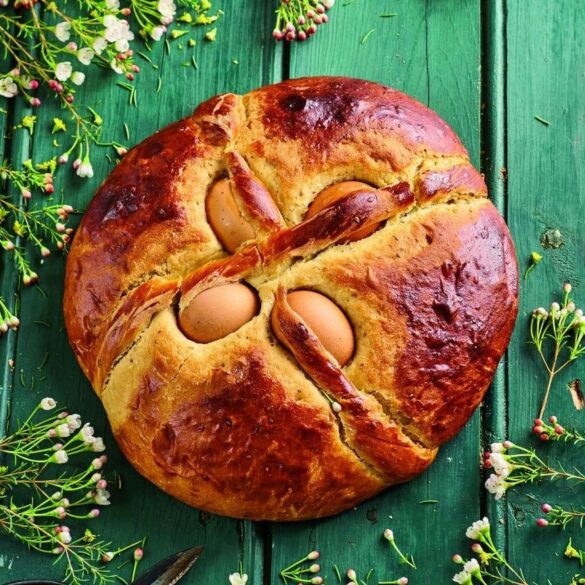 Ingredients
0.9 oz of yeast
A little of warm milk
1 tablespoon of sugar
17.6 oz of flour
A pinch of salt
3.5 oz of melted butter
3 eggs, beaten
Zest and juice of half an orange
Half a teaspoon of cinnamon powder
Boiled eggs (optional)
1 egg yolk mixed with a little of milk
Instructions
Dissolve the yeast in a little of warm milk and a tablespoon of sugar and let it rise for 20 minutes.
In a large bowl mix the flour with a pinch of salt and make a hole in the middle.
Add to the yeast mixture the melted butter, the beaten eggs, the orange zest and juice and the cinnamon powder. Mix well.
Pour this mixture into the hole in the flour and knead well until you get a smooth dough that does not stick to your hands. If necessary add more flour or milk.
Form a ball with the dough and place it in a bowl greased with oil. Cover with a cloth and let it rise in a warm place until it doubles in volume (about 2 hours).
Preheat the oven to 350ºF and line a baking sheet with parchment paper.
Divide the dough into two equal parts and form two long rolls. Braid them together and join the ends to make a crown.
Place the crown on the baking sheet and decorate with boiled eggs (optional). Brush the dough with an egg yolk mixed with a little of milk.
Bake for about 35 minutes or until golden. Let it cool on a rack before serving.
Notes
You can add other ingredients to this recipe according to your taste and preference. Some common additions are raisins, nuts, dried fruits or chocolate chips.
You can also use different spices such as nutmeg, cardamom or anise. Just make sure to adjust the amount of sugar and liquid accordingly.
You can substitute some of the ingredients according to your taste and preference. For example, you can use plant-based milk instead of cow's milk, oil instead of butter or lard, brown sugar instead of white sugar or natural sweetener instead of sugar.
You can also use different spices such as nutmeg, cardamom or anise. Just make sure to adjust the amount of liquid and sweetness as needed.