There's something so comforting about a warm bowl of soup on a chilly day. And when that soup is packed with flavor and made with simple, wholesome ingredients, it's even better. That's exactly what you'll get with Sopa Tarasca – a cozy and comforting Mexican classic that's perfect for any night of the week.
Originating from the state of Michoacán in Mexico, Sopa Tarasca is a delicious soup made with bayo beans, tomatoes, chicken broth, garlic, onion, corn tortillas, pasilla chili pepper, vegetable seed oil and salt. It's easy to make and packed with flavor, making it the perfect dish to warm you up from the inside out.
In this article, we'll show you how to make Sopa Tarasca at home using simple ingredients and easy-to-follow instructions. We'll also share some tips and tricks for customizing the recipe to suit your taste or dietary needs. So grab a spoon and get ready to dive into a bowl of this cozy Mexican classic – you won't be disappointed!
Sopa Tarasca is a versatile dish that can be enjoyed as a starter or as a main course. It's perfect for a cozy night in or as a delicious addition to your next dinner party. And with its simple ingredients and easy-to-follow instructions, it's a dish that anyone can make at home.
One of the things we love about Sopa Tarasca is its rich and complex flavor. The combination of bayo beans, tomatoes, chicken broth, garlic and onion creates a savory base that's perfectly balanced by the heat of the pasilla chili pepper and the crunch of the fried corn tortillas. And when you top it all off with fresh cheese or avocado cubes and a dollop of cream – it's pure heaven in a bowl.
But don't just take our word for it – give this recipe a try and see for yourself why Sopa Tarasca is such a beloved Mexican classic. We're confident that once you taste it, you'll be hooked!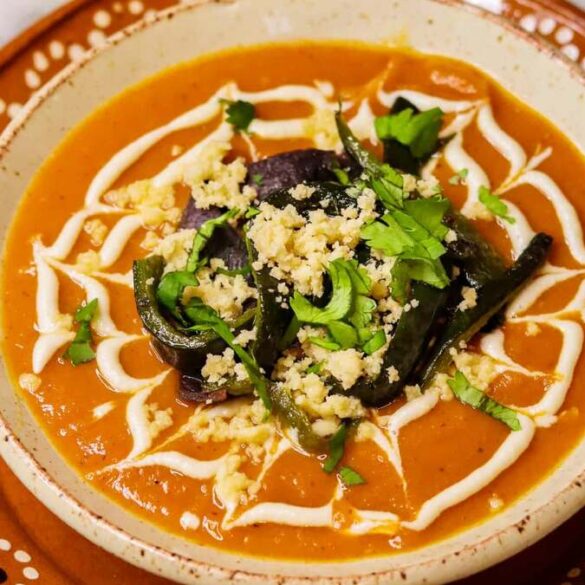 Ingredients
10.6 oz of bayo beans or regular beans
3 tomatoes
4.2 cups of chicken broth
1 clove of garlic
¼ onion
5 corn tortillas
1 pasilla chili pepper without seeds (guajillo chili pepper also works)
Vegetable seed oil (such as sunflower)
Salt
Instructions
To start, soak the beans in a bowl of water for 12 hours. Once soaked, drain the water and set aside.
Roast the tomatoes in a frying pan until the skin starts to peel off. When this happens, remove all remaining skin and set aside for later.
Place the beans in a pressure cooker with 4.2 cups of water and cook for half an hour.
Then drain the beans and blend them with 1.3 cups of the water used to cook the beans, adding a pinch of salt.
Blend the tomatoes with the garlic clove and onion and add it to the blended beans.
In a pot, heat oil and when hot add the mixture of beans with tomatoes and chicken broth, cooking over medium heat until boiling.
While the soup is cooking, fry the tortillas in strips until golden brown and then remove them.
With the remaining fat from the tortillas, lightly fry the pasilla chili pepper.
Serve the soup in plates or bowls (traditionally made of clay like Castilian soup) and add the tortillas and pasilla chili pepper.
Ready to serve! You can accompany this soup with fresh cheese or avocado cubes, also accompanied by cheese tortillas and cream that make it unmatched.
Notes
You can add a variety of toppings to your sopa tarasca to make it even more delicious. Some popular options include fresh cheese or avocado cubes, cheese tortillas and cream.
You could also try adding some diced cooked chicken, crumbled queso fresco or cotija cheese, chopped fresh cilantro or a squeeze of lime juice for added flavor.
You can substitute some of the ingredients in this Tarascan Soup recipe to suit your taste or dietary needs. For example, if you don't have bayo beans on hand, you could use regular beans instead. If you don't have pasilla chili pepper, you could use guajillo chili pepper instead. If you want to make this soup vegetarian, you could use vegetable broth instead of chicken broth.
It's always a good idea to experiment with different ingredients and find what works best for you. Just keep in mind that making substitutions may change the flavor and texture of the soup slightly.