Banana cake is a timeless classic that never goes out of style. Whether you're looking for a way to use up ripe bananas or simply craving something sweet and satisfying, this delicious dessert is sure to hit the spot.
In this post, we'll share our favorite recipe for banana cake that's moist, flavorful, and easy to make from scratch. We'll also give you some tips and tricks for customizing the recipe to your liking, whether you prefer to add nuts or chocolate chips or experiment with different spices and frostings.
But first, let's talk about what makes a great banana cake. The key to success is using ripe bananas that are sweet and full of flavor. Don't be afraid to use bananas that are heavily speckled or even black – the riper the better! These bananas will add natural sweetness and moisture to the cake, resulting in a tender crumb and rich flavor.
Another important factor is the balance of ingredients. Our recipe uses just the right amount of sugar, butter, and flour to create a cake that's sweet but not too sweet, rich but not too heavy. We also add a touch of baking soda and baking powder to help the cake rise and achieve a light and fluffy texture.
Once you have the basic recipe down, it's time to get creative! There are countless ways to customize your banana cake and make it your own. Try adding chopped nuts such as walnuts or pecans for crunch and flavor. Or fold in some chocolate chips for a decadent treat. You can also experiment with different spices such as cinnamon or nutmeg to add warmth and depth to the flavor.
And let's not forget about the frosting! A classic cream cheese frosting pairs perfectly with banana cake, adding tanginess and richness to every bite. But don't be afraid to try something different – a chocolate ganache or caramel sauce would also be delicious.
In short, banana cake is a versatile and delicious dessert that's perfect for any occasion. Whether you're serving it at a family gathering or enjoying a slice as an afternoon treat, this classic dessert is sure to satisfy. So why not give our recipe a try and discover the joy of homemade banana cake?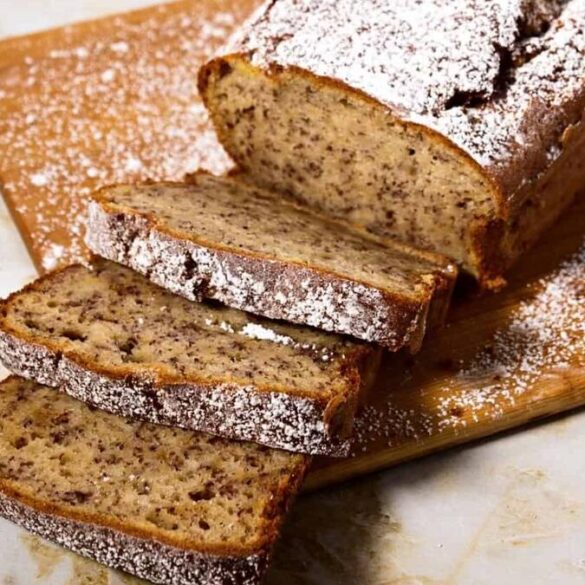 Ingredients
4 large eggs
1 cup granulated sugar
4 tablespoons unsalted butter, room temperature
1 2/3 cups all-purpose flour
1/4 teaspoon baking soda
1 teaspoon baking powder
Mashed ripe bananas
Instructions
Preheat your oven to 392°F. Grease a cake pan with butter and dust with sugar and cinnamon.
In a large bowl, whisk together eggs, sugar, and butter until smooth.
Sift in the flour, baking soda, and baking powder and mix until just combined.
Fold in the mashed bananas until evenly distributed.
Pour the batter into the prepared pan and arrange banana slices on top if desired.
Bake for about 40 minutes or until a toothpick inserted into the center comes out clean and the top is golden brown.
Notes
You can substitute some of the ingredients in the banana cake recipe. For example:
You can use a different type of sugar such as brown sugar or honey for a different flavor.
You can use oil or a non-dairy spread instead of butter if you want to make the recipe dairy-free.
You can use a gluten-free flour blend instead of all-purpose flour if you need to avoid gluten.
It's always a good idea to experiment and find what works best for you. Just keep in mind that substitutions may affect the texture and flavor of the cake.
You can add nuts or chocolate chips to the banana cake recipe. Simply fold in about 1/2 cup of chopped nuts or chocolate chips into the batter before pouring it into the pan. You can also sprinkle some on top of the batter before baking for added texture and flavor.
Some popular choices for nuts in banana cake are walnuts, pecans, and almonds. You can also use dark, milk, or white chocolate chips depending on your preference.