Are you ready to discover the sweet taste of Cuba? Look no further than this delicious recipe for torrejas cubanas. These sweet treats are the perfect way to indulge your sweet tooth and experience the flavors of Cuba.
If you're not familiar with torrejas, they're a traditional Cuban dessert that's similar to French toast. Made with slices of bread soaked in a mixture of milk, eggs, and sugar, these sweet treats are then fried to perfection and served with a generous drizzle of syrup.
But don't let their simplicity fool you – these torrejas are packed with flavor. The combination of the sweet bread, rich milk mixture, and syrup creates a taste sensation that's sure to satisfy your cravings.
And the best part? They're incredibly easy to make. With just a few simple ingredients and a little bit of time, you can whip up a batch of these delicious torrejas in no time.
But where did these delicious treats come from? Torrejas have a long history that dates back to Roman times. A version of this dessert appears in accounts dating as far back as the Roman times.
In more recent accounts, torrejas seem to have become popular during the 16th century, when this highly calorific dish would be given to expectant mothers before giving birth, as well as after birth to help restore their energy.
Later in the Middle Ages, it became common to eat torrejas during Lent and especially the Holy Week, or 'Semana Santa' just before Easter. It's believed that the dish became a popular option during that time as it compensated for the absence of meat from the diet during Lent.
In religious context, torrejas were eaten with wine, and together the two were said to represent the body and blood of Christ. It was the Spanish conquistadors who imported them to Latin America.
So why not treat yourself to the sweet taste of Cuba with this delicious torrejas recipe? Trust us, your taste buds will thank you.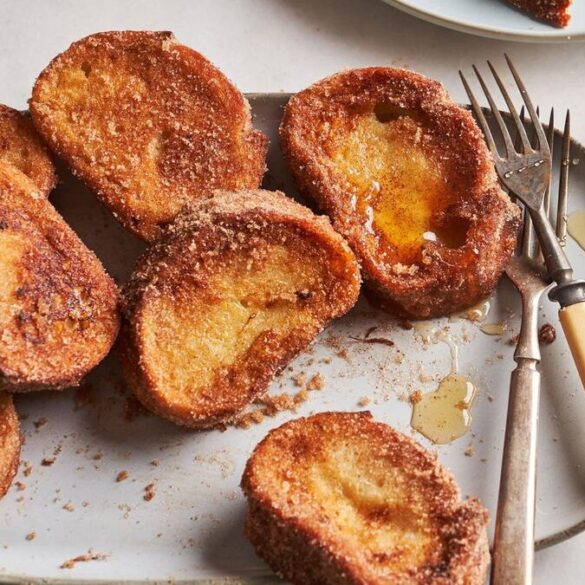 Ingredients
1 Cuban bread (approx. one pound)
5-6 eggs
Abundant oil for frying
Whole milk or 1 can of evaporated milk (12 ounces)
1 cup of white sugar
Vanilla extract (optional)
Ground cinnamon (optional)
2 tbsp. of dry wine or Vermouth of your choice.
Syrup or honey
Instructions
Start by cutting the bread into slices.
Once the bread is cut, soak it (for a short time) in a mixture made with beaten egg yolks, sugar and the selected liquor (dry wine or Vermouth).
This previously mentioned mixture can also contain cinnamon and vanilla. However, these are optional.
Then, each slice of bread is passed through the milk mixture, either powdered or evaporated milk (if it is powdered, it must already be dissolved and prepared) and then through some egg.
When you have done this step, proceed to fry the torrejas in hot oil and, preferably, individually.
When removing the torrejas from the heat, drain them a little on absorbent paper.
Then transfer them to a suitable container or container and place the syrup on top.
Finally, take them to the refrigerator for a few hours to let them rest if you like them cold. If not, you can also eat them warm.
Notes
Yes, you can use other types of bread for Cuban torrejas. If you can't find Cuban bread, you can use a French baguette instead. Other substitutes for Cuban bread include baguettes, white bread, ciabatta, focaccia, and anadama bread.
Any type of bread that has a soft tender texture and a thin crisp crust will work. You can also try and use alternatives with a slightly sweet flavor and similar long shape.
You canuse a non-dairy milk such as almond milk or soy milk as a substitute for the milk in the recipe. It's always a good idea to experiment and see what works best for you!