I still remember the first time I tried a Salvadoran pupusa. I was on vacation in New York City, exploring the vibrant food scene and trying all sorts of new dishes. One day, I stumbled upon a food truck selling these thick corn tortillas stuffed with cheese and beans. I was intrigued and decided to give them a try.
One bite and I was hooked. The combination of the crispy corn tortilla, gooey cheese, and savory beans was pure heaven. I knew right then and there that I had to learn how to make these delicious treats at home.
When I got back from my trip, I started researching Salvadoran cuisine and the history of pupusas. I learned that they have been a staple of Salvadoran cuisine for centuries and that they originated with the Pipil people, who were the indigenous inhabitants of what is now El Salvador.
I also discovered that there are many different fillings you can use to make pupusas. In addition to cheese and beans, you can also use chicharrón (pork cracklings), loroco (an edible flower native to Central America), ayote (a type of squash), and spinach.
After much experimentation in my kitchen, I finally perfected my recipe for Salvadoran pupusas. And now, dear readers, I'm excited to share it with you! In this blog post, we'll explore the history and cultural significance of pupusas, share our favorite fillings and toppings, and give you a foolproof recipe to make them at home.
So grab your apron and let's get cooking! Trust me, once you try these delicious Salvadoran pupusas, you'll be hooked just like I was.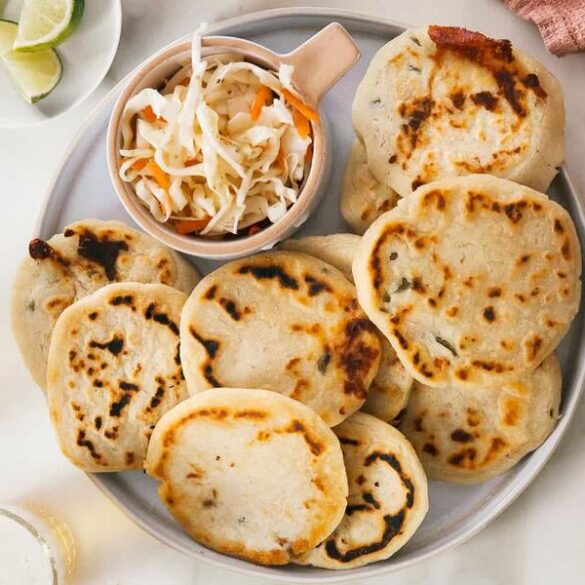 Ingredients
For the refried beans:
8.8 ounces of cooked beans
1 piece of onion
1 clove of garlic
2 tablespoons of oil
7 ounces of mozzarella cheese
For the chicharrón:
10.6 ounces of pork chicharrón
2 pieces of jitoamates
½ unit of onion
1 green chili
2 tablespoons of oil
For the corn dough:
17.6 ounces of corn flour
½ cups of water (12.2 fluid ounces)
For the curtido:
1 cup of finely chopped white cabbage
2 pieces of grated carrot
1 purple onion in julienne strips
½ cup of white vinegar
a pinch of dried oregano
Instructions
Start by preparing the refried beans. First, place a pan with a little oil and fry until the onion and garlic are golden brown. Then blend with the cooked beans for a few minutes until you get a smooth paste.
In a pot or pan with the oil left over from frying the onion and garlic, pour in the beans and stir constantly until reduced and a firmer paste is formed. When ready, add the mozzarella cheese and set aside.
Now prepare the chicharrón. First blend the tomato, onion and green chili; set aside. With your pork chicharrón ready proceed to grind it using a food processor or blender until you get a paste. Then add the sauce you first blended and mix to integrate all ingredients.
Once everything is ground up, transfer the chicharrón paste to a pan with a little oil and cook for 10 minutes then set aside.
For the corn dough you can use pre-cooked corn flour or regular corn flour. Mix with water and a pinch of salt until you get a soft moist dough.
Prepare the curtido: mix finely chopped white cabbage, grated carrot, purple onion in julienne strips, a pinch of oregano salt to taste and half a cup of white vinegar.
All that's left is to prepare the pupusa: take a portion of dough and form it into a kind of little bowl with your hands.
Fill with bean paste cheese and chicharrón; close it up and shape it by pressing with your hands. Then on a hot griddle cook pupusas for a few minutes on each side until golden brown.
Notes
Pupusas are traditionally served with a side of curtido and tomato salsa. Curtido is a type of Salvadoran coleslaw made from cabbage, carrots, onions and sometimes jalapeño peppers that have been pickled in vinegar. The tomato salsa is a simple sauce made from cooked tomatoes, onions, garlic and chili peppers.
To serve, place the pupusas on a plate and top with a generous helping of curtido and a spoonful of tomato salsa. Some people also like to add a dollop of sour cream or hot sauce for extra flavor.
Pupusas are very versatile and can be filled with a variety of ingredients. Some popular fillings include:
Cheese: usually a soft cheese like mozzarella or quesillo.
Loroco: an edible flower native to Central America that has a unique flavor.
Ayote: a type of squash that is cooked and mashed.
Spinach: cooked and seasoned spinach.
Shrimp: cooked and seasoned shrimp.
You can also mix and match fillings to create your own unique combinations. For example, you could make a pupusa filled with cheese, beans and loroco or one with spinach and shrimp. The possibilities are endless!
You can substitute some of the ingredients in the pupusa recipe to suit your taste and dietary needs. For example, if you don't have access to loroco or don't like its flavor, you can simply leave it out or replace it with another filling like spinach or ayote.
If you're vegetarian or vegan, you can omit the chicharrón and use a plant-based cheese instead of mozzarella. You can also experiment with different types of beans or cheeses to find the combination that you like best.