As a food blogger, I'm always on the hunt for new and exciting dishes to try. So when I heard about Dushbara, a traditional Azerbaijani dumpling soup, I knew I had to give it a go. And let me tell you, it did not disappoint!
I first learned about Dushbara from an Azerbaijani family living in the US. They were kind enough to invite me over for dinner one night and share their family recipe with me. It was such a fun and delicious experience that I knew I had to share it with all of you.
I still remember walking into their home and being greeted by the most amazing smells. The aroma of the lamb broth simmering on the stove was enough to make my mouth water. And when they brought out the steaming bowls of Dushbara, I knew I was in for a treat.
As we sat around the table enjoying our soup, the family told me all about the history of Dushbara and how it's been passed down through generations. They even gave me a hands-on lesson in how to make the perfect dumplings. It was such a special evening and one that I'll always cherish.
So what is Dushbara exactly? It's a comforting soup made with tender dumplings filled with ground meat and cooked in a flavorful lamb broth. It's the kind of dish that warms you from the inside out and leaves you feeling all cozy and satisfied.
But don't let the simplicity of the ingredients fool you. This soup packs a serious flavor punch. The combination of the savory meat filling and the rich broth is just out of this world. And the best part? It's surprisingly easy to make at home.
Now, I know what you're thinking. "But I've never made dumplings before! How am I supposed to do this?" Don't worry, my friends. I was in the same boat. But with a little practice (and a lot of flour on my kitchen counter), I managed to get the hang of it. And trust me, if I can do it, so can you.
So if you're ready to try something new and delicious, grab your apron and let's get cooking!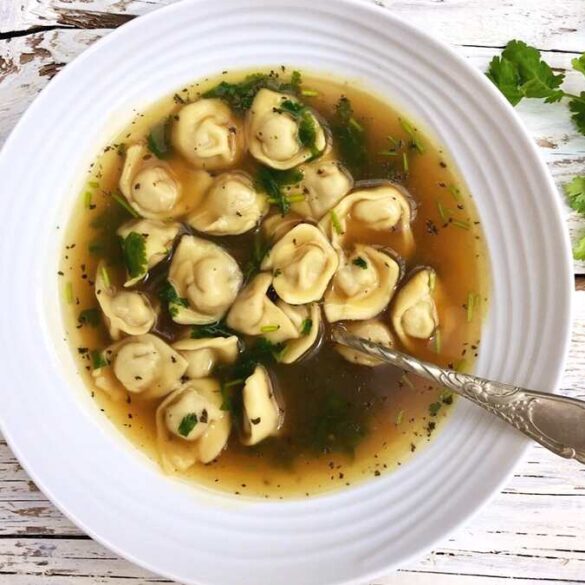 Ingredients
Ingredients for the Dough:
2 cups flour
1 egg
½ teaspoon salt
1/3 cup water
Ingredients for the Filling:
250 g (8 oz) grounded lamb or beef
1 small size onion
½ teaspoon salt
¼ teaspoon pepper
Ingredients for the Broth:
450 g (1 lb) lamb or beef
1 small size onion
½ teaspoon saffron or turmeric
Salt
Instructions
Start by preparing the broth. Place the meat in a saucepan and cover it with water. Bring to a boil. Add peeled onion, a pinch of saffron or turmeric, and season broth with salt to taste.
Simmer until the meat is cooked. Strain through a fine mesh colander. Alternatively you can use meat stock or broth, or simply cook dushbara in water.
Next, prepare the dough. Sift the flour into a bowl. Add the egg, salt and water, and start kneading the dough until it is soft and elastic. (The quality of flour can vary, so keep in mind that you may have to add more or less than the amount listed in the ingredients.) Remember to save some flour for dusting the layers.
Shape the dough into a ball, cover with a plastic wrap, and set aside for 20 minutes to rest before rolling.
In a bowl, combine the grounded meat with finely chopped (or grounded) onion, and season with salt and pepper. Mix filling well and set aside.
Dust your working place with flour and start rolling out the dough into a large thin circle, approximately 1-2 mm thick. Cut the dough into very small squares. Place a quarter a teaspoon of filling into the middle of each square.
Fold the square edges into a rectangle or corner to corner into a triangle and seal them, then seal the far ends together to form the shape.
Put Dushbara in boiling broth and gently mix them with a wooden spoon so they don't stick together.
Lower heat and simmer Dushbara for 10 minutes until dough is tender.
Serve hot with vinegar mixed with chopped garlic to taste, and garnish with chopped fresh or dried mint.
Notes
You can substitute some of the ingredients in the Dushbara recipe to suit your taste and dietary preferences. For example, you can use ground chicken or turkey instead of lamb or beef for the filling.
You can also use vegetable broth instead of lamb broth if you prefer a vegetarian version. Feel free to experiment and make the recipe your own!
In addition to substituting the meat and broth, you can also experiment with the seasonings and herbs used in the recipe.
For example, you can try using different herbs such as parsley or dill instead of mint for garnishing.
You can also adjust the amount of salt and pepper to taste.
If you like a bit of heat, you can add some red pepper flakes or cayenne pepper to the filling.
It's all about finding the right balance of flavors that works for you!
You can make a vegetarian version of Dushbara! To do so, you can use vegetable broth instead of lamb broth for the soup base.
For the filling, you can try using a mixture of finely chopped vegetables such as mushrooms, carrots, and zucchini instead of ground meat.
You can also add some spices such as cumin or coriander to the filling for extra flavor. Experiment and see what works best for you!